What are the Benefits of Manuka Honey for Acne-Prone Skin?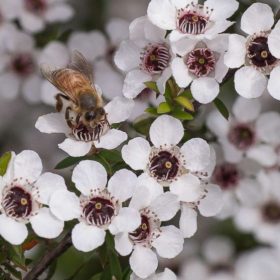 Manuka honey is a variety of honey native to New Zealand. It's produced by bees who pollinate the Manuka bush, also known as the Leptospermum scoparium flower.
Manuka honey tends to have a higher price-point than other honeys on the market. Its proven antibacterial properties set it apart from other honeys. Methylglyoxal is the active ingredient responsible for its antibacterial effects. Additionally, Manuka honey has antiviral, anti-inflammatory and antioxidant benefits.
Did you know that in 2007, Manuka honey was approved by the US FDA as an effective option for wound treatment? When applied topically, Manuka honey effectively treats burns, ulcers and non-healing wounds.
It has also been proven effective on antibiotic-resistant strains, such as MRSA.
When incorporated into skincare products, Manuka honey is a powerful and highly effective ingredient. The antimicrobial properties of Manuka honey can help keep your skin free of bacteria, which expedites healing of blemishes on acne-prone skin.
In addition, its natural anti-inflammatory properties help decrease the inflammation associated with acne thereby diminishing the effects of inflamed blemishes, shortening their duration and consequently minimizing acne scarring.
If you're struggling with acne and inflammation on your skin, I recommend incorporating our powerhouse Doctor Milagros Everyface Scrub into your skincare regimen today. All of my ingredients are scientifically proven to give you beautiful, healthy skin without any harmful toxins. My proprietary blend of botanicals which include Manuka honey and hemp-derived CBD isolate make for a skincare product that soothes symptoms of acne, eczema, psoriasis and eczema.

Studies referenced listed below:
Manuka honey inhibits cell division in methicillin-resistant Staphylococcus aureus – PubMed (nih.gov)
Effect of Manuka Honey on Eyelid Wound Healing: A Randomized Controlled Trial – PubMed (nih.gov)
Manuka honey-impregnated dressings in the treatment of neuropathic diabetic foot ulcers – PubMed (nih.gov)
Honey: a potential therapeutic agent for managing diabetic wounds – PubMed (nih.gov)